28 LED Black Light
If you just have to have the best and most unique UV, LED light, then this is what you want. Offered only here at Black Lights USA, we serve the world exclusively with this high quality, high intensity black light - the finest and brightest on the market.
Please note: This flashlight uses 28 LED's for the UV light source. We feel that this is one of the strongest UV light on the commercial market. You will not find a stronger UV light anywhere (well, we do have a 68 LED black light). If you must have strength, then this is the very finest light you can buy.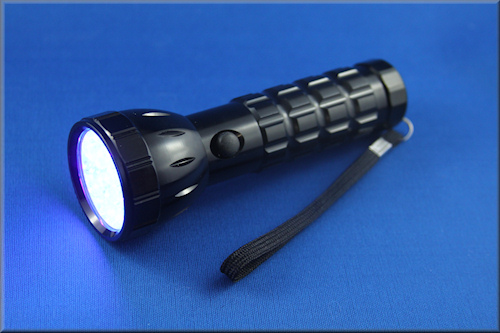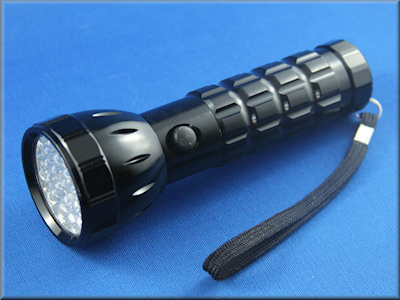 Features:
BRIGHT! Fluoresce at distances over 20 feet in darkness

Unbreakable Super Bright LED bulb

Toggle on-off switch for continuous use, "Hands-Free" on switch allows you to dangle the UV light source in tight areas

Water-resistant high-strength case

Three replaceable "AAA" size long-life batteries not installed
Perfect for:
Use UV Light to Spot Germs
Checking ultraviolet inks in currency and ID's
Check credit cards- Discover Cards have "NOVUS", MasterCard have "M C", and Visa has an eagle in UV ink.
Activation of fluorescent inks/dyes used as anti-counterfeiting measures
Checking hand stamps at clubs
Examining artwork and glasswork for hidden repairs
Small UV source will fit inside and behind objects
Scan a crime scene for foreign materials
Locating damaged/cracked glassware
Scorpion Illumination, Scorpion hunting or avoidance
Fluorescing diamonds- some will glow in the dark.
Fluorescing dyes used to check leaks.
Description :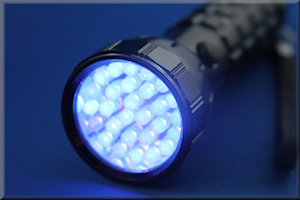 Aluminum 28 Ultra Bright UV (Ultra violet) LED Flashlight 3 x AAA
Bulb Type 28 x 5mm UV LED bulb, 390nm peak
Features: Black color, Aluminum
Burn Time 3+ Hrs. (Alkaline)
Battery Type 3 x 1.5V "AAA" Size Battery
Product Size About 1.5" x 6"
Weight: W/ batteries 7 OZ
OR
if you would like 2 of the lights:


Postage for many of your black lights will be chosen by you. You determine the actual cost and method for shipping. All prices are in U.S. dollars. We will get your black light(s) to you as soon as possible (usually mailed the same day or at worst, the next day). For any questions, please contact us at
Our emails are sent immediately, so if you don't receive it, it is likely caught in a spam filter. You will receive another email when your order ships which will contain the shipping information.
You can pay 3 ways, either by credit card (located on each page as the 'buy now' button), a personal check, or purchase order.
When you purchase from use, you will note that the credit card page goes to our sister company, Amberica West, where the credit card purchase will show "Amberica West" as the merchant. Our phone number is 719-646-1393.
Finally, if you feel more comfortable, feel free to call us at 719-646-1393 (this is in the United States). Our fax number is 719-258-9602.
Please feel free to visit out sister store that specializes in DNA products. From neckties to jewelry, to DNA models and DNA stuffed toys! The DNA Store

has things you only dreamed about. You will enjoy your visit - it is a very unique store.
Also there is a unique site for exclusive and specialized Dominican amber at the Amber Mine.

Dominican Amber:

For large scale orders, please inquire at sales@blacklightsusa.com




<