14 LED Black Light
Probably just the finest utilitarian black light on the market. This is a LED light that utilizes 14 individual LED lights for a bright and bold shine. This is so bright that it can even been seen in the daylight. This 5 inch metal light will last and last. It is a truly fine instrument that will serve you for many years.
If you have ever wanted to go scorpion hunting - this is one of the best. They will light up like a Christmas ornament. Remember, we do not sell batteries, nor does this come with batteries.
If you are purchaseing this for cat urine detection, a shorter wavelength will give much better results. The 375 - 360 nm will be much better -- shorter wavelengths tend to cause things such as biological fluids to fluoresce. 395nm is actually still largely within the visible range, so will throw a lot of visible violet light, which will make the fluorescence of a cat, harder to see, and in general won't be as effective. Our recommendations are number 1 and number 2 and number 3.
Features:
BRIGHT! Fluoresces at distances over 20 feet in darkness

Unbreakable Super Bright LED bulb

Toggle on-off switch for continuous use, "Hands-Free" on switch allows you to dangle the UV light source in tight places
LED Light Description :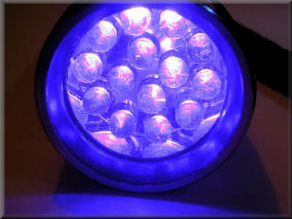 Aluminium 14 UV LED Flashlight
Material: Color Dark Aluminium
Light Time: > 15 Hours
Bulb Type: 14 x 5mm UV LED bulb
Battery Type: 3x 1.5V AAA Battery (included battery carriage)
Product Size: About 5" (length) x 1" (diameter)
Net Weight: 3.52 oz.
Water-resistant high-strength case
They use three replaceable "AAA" size long-life batteries - we do not supply batteries
Wavelength: About 390 nM
Comes in a wonderful tin box (3 x 6 inches) for great storage

Perfect for:

* Checking ultraviolet inks in currency and ID's
* Check credit cards- Discover Cards have "NOVUS", Master Card have "M C", and Visa has an eagle in UV ink
* Activation of fluorescent inks/dyes used as anti-counterfeiting measures
* Checking hand stamps at clubs
* Examining artwork and glasswork for hidden repairs
* Small UV source will fit inside and behind objects
* Scan a crime scene for foreign materials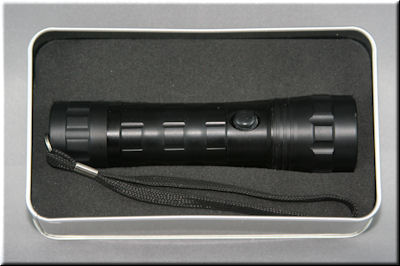 * Locating damaged/cracked glassware
* Scorpion Illumination, Scorpion hunting or avoidance
* Fluorescing diamonds- some will glow in the dark.
* Fluorescent dyes used to check leaks in heating and air.

We felt that you might want to see what a scorpion looks like under our UV lights. This is a video sent in by Brad Vinson who is currently stationed in Afghanistan. It is a good video. This light does not do a good job with California driver licenses (although this one does.)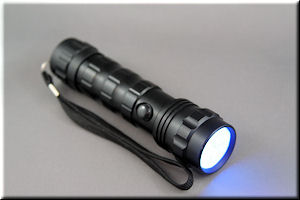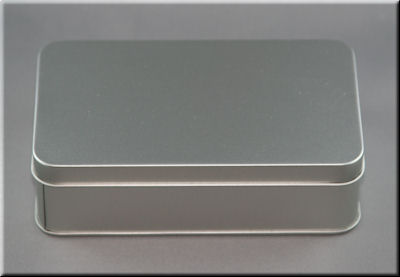 We've got to tell you that this is probably the best black light we have ever seen. And this is the only place you can get them.
Dealer inquiries invited.
OR

if you would like 2 of the lights: